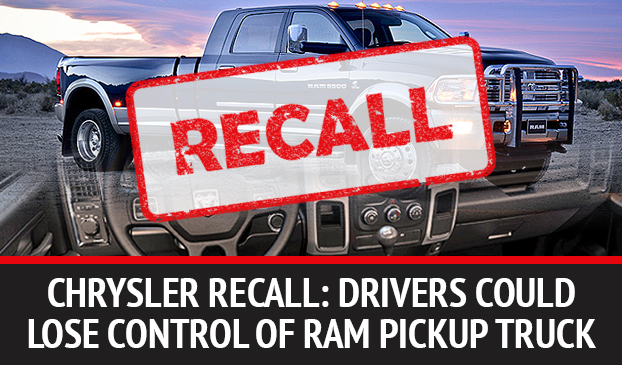 When you're on the road, keeping control of your car is necessary to ensure personal safety and the safety of others.
Chrysler is recalling about 200 Ram Pickup Trucks with ineffective vehicle stability control. This means the driver could lose control of the vehicle, increasing the likelihood of a crash. Loss of control would undoubtedly endanger the driver, passengers and other people on the road.
The Recalled Models
Chrysler is recalling 199 Ram 4500 and 5500 pickup trucks manufactured between January 30 to February 6, 2015. The recall identification number is R34.
 The Reason
The issue is the vehicle suspension, which is an important part of keeping the vehicle in control.
According to the recall announcement, the vehicle could have "inadequate penetration of the front upper control arm loop to spacer weld, reducing the front suspension stability." A lack of suspension could result in a crash.
Chrysler's Solution
The vehicle manufacturer will notify Chrysler Ram pickup truck owners and car dealerships that may be linked to the sale of the recalled vehicles by direct mail. The company will replace upper control arms free of charge.
The recall will begin on September 19, 2015. Contact Chrysler customer service at 1-800-853-1403 or visit Chrysler's website for more information.

CitizensReport.org is a watchdog alerting American consumers about health and safety hazards.

Latest posts by CitizensReport (see all)