On Jan. 20, President-elect Donald Trump will take office with a Republican cabinet in tow. As promised in the campaign, one of their first orders of business is repealing Obamacare.
New research from the Commonwealth Fund illustrates the impact of cutting the Affordable Care Act, which would result in a loss of 2.6 million jobs caused by a $140 billion decrease in federal healthcare funding. Mostly in health and private sectors, the number of jobs lost would jump to nearly 3 million by 2021.
Obamacare's Major Provisions
The Affordable Care Act (ACA) is a measure passed under President Obama, which provides subsidies for insurance premiums and expands Medicaid eligibilities. The ACA supports low-to-moderate income families with premium tax credits on qualified health plans, which are paid to insurance companies.
The individuals assisted makeup 100 to 400 percent of national poverty. The system awards the largest tax credits to the lowest-income individuals.
The ACA also expands Medicaid to non-elderly adults who bring in incomes that fall 138 percent below the federal poverty level. Only 31 states have expanded Medicaid, with the federal government covering the majority of costs to insure eligible individuals.
While Obamacare has been referred to as a "job killer," research illustrates that the ACA has actually stimulated job growth. Studies show that federal healthcare funding creates a revenue ripple effect that provides indirect and induced rewards, such as the ability to purchase additional medical equipment or allow individuals to support a family and contribute to the economy.
Economic Implications of Repealing Obamacare
| | | |
| --- | --- | --- |
| Doubling of the number of uninsured Americans. | Higher costs for health care providers. | Higher taxes for low-income Americans. |
A team of researchers collaborating with the Commonwealth Fund analyzed data to determine the effects of the repeal, predicting increased costs across the board in 2019. The research is based on the failure to supplement the repeal with a replacement plan.
Additional research support came from the Geiger Gibson RCHN Community Health Foundation Research Collaborative, and the Milken Institute School of Public Health, George Washington University.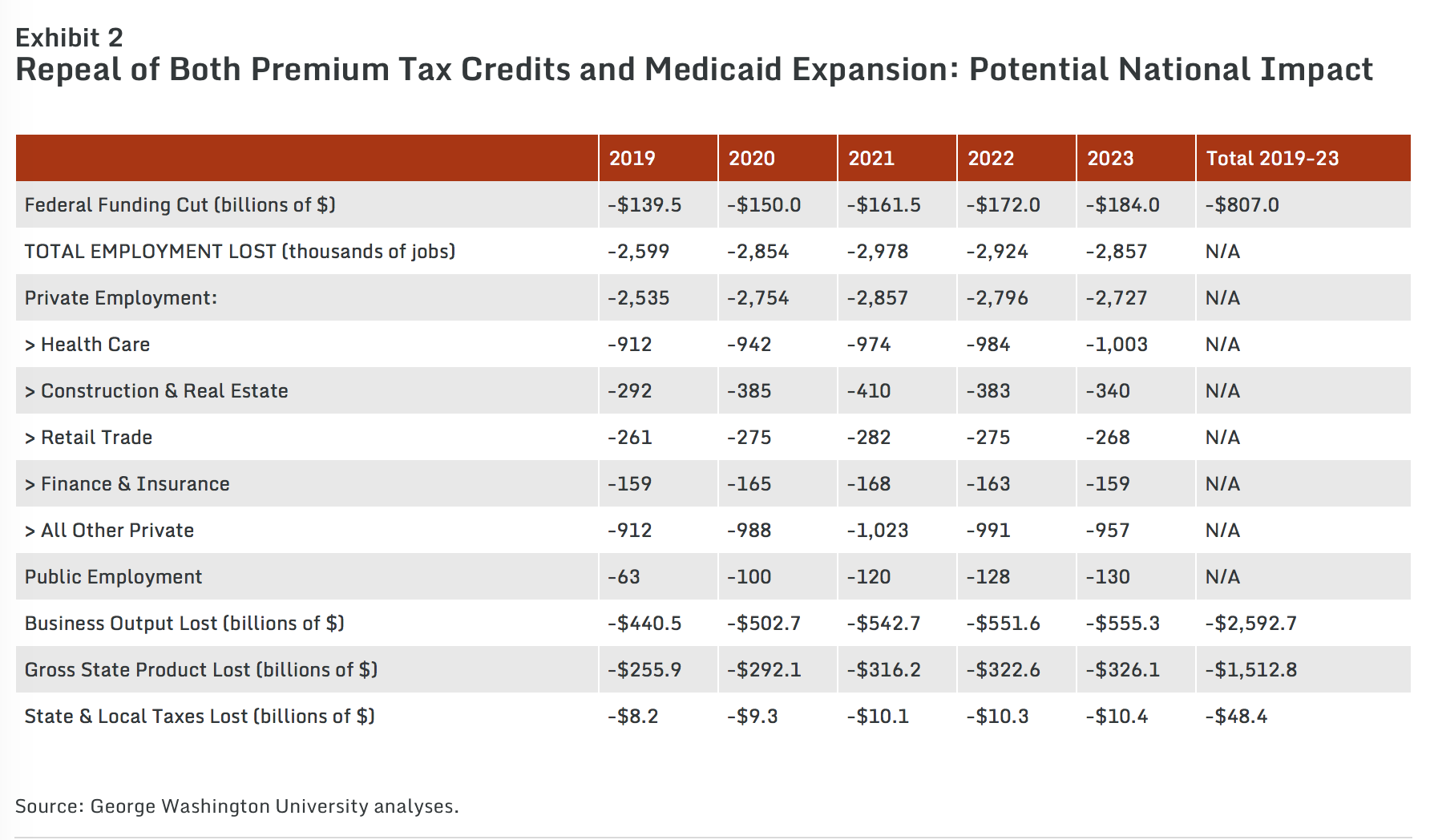 The research shows that hospitals and physicians would see a $1.1 trillion increase in uncompensated costs between 2019 to 2028, due to millions of uninsured who are now unable to pay their medical bills. Though the cuts would lead to a loss of revenue for the industry, each state could see economic implications as well.
"When federal funds are cut, the results play out in the other direction, triggering losses in employment, economic activity, and state and local revenues," according to the Commonwealth Fund's research.
National Industry Distress
Researchers measured how the repeal could affect employment and economic activity on a state-by-state basis. The team used a multistate economic forecasting model "to quantify for each state the effects of the federal spending cuts."
The majority of unemployed will be in the private sector and in health care, but other industries will be impacted too. Researchers predict serious distress caused by:
Unemployment from jobs lost in healthcare, construction, real estate, retail, finance and insurance

Losses in economic and business outputs

Decrease in state and local tax revenues
$140 billion in funding cuts. 2.6 million jobs lost statewide.
In short, repealing the ACA could create serious economic and employment deficits, affecting states, the private sector and the health care system.
"Because they serve so many uninsured and Medicaid patients, safety-net facilities such as hospitals and community health centers could be especially hard hit," according to the Commonwealth Fund. "In the end, states could be forced to choose between cutting vital services and raising tax rates."
The provisions of the ACA largely benefit low- and middle-income individuals who require the additional funds to afford food, shelter and other basic needs. According to the research, only the wealthy will save money when Obamacare is repealed.
"Moreover, such spending creates greater economic stimulus than tax deductions that disproportionately benefit wealthier individuals, who are likely to shift more money into savings, which is less stimulative."

CitizensReport.org is a watchdog alerting American consumers about health and safety hazards.

Latest posts by CitizensReport (see all)