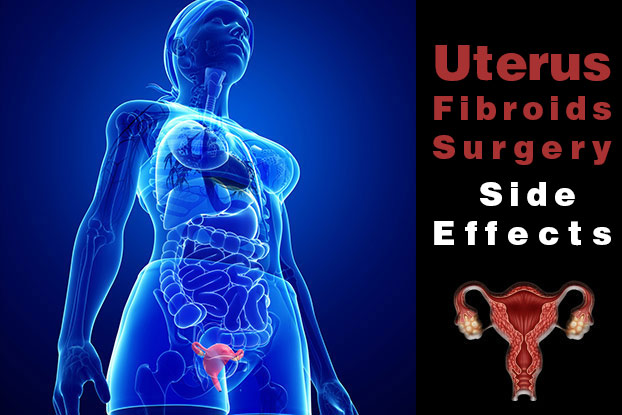 Uterus Fibroids Surgery Side Effects
Although generally quite safe, uterus fibroids surgery side effects include excessive bleeding, pelvic pain, discomfort during sex, infection and abscess. Bleeding can persist for weeks or even months after an abdominal surgery such as a myomectomy – which removes the fibroids themselves – or even longer in the case of a hysterectomy – which removes the uterus entirely. A full recovery from a hysterectomy can take up to a year and can be accompanied by heavy bleeding. For premenopausal women who intend to have children, the most serious uterus fibroids surgery side effect is infertility. Loss of fertility can occur even after a successful myomectomy. Complications during a myomectomy, such as uncontrollable blood loss, can make a total hysterectomy necessary.
The risks and long recovery times associated with abdominal fibroid removal surgery led to the development of the less invasive laparoscopic technique, although this option is not suited for all women. Laparoscopic surgery removes fibroids using a long, thin tube called a laparoscope, inserted into the uterus either through small incisions in the abdomen or via the vagina. Not all uterus fibroids can be treated by laparoscopy; however, a hysterectomy may be necessary depending on the size and location of the fibroids.
Hormone therapy can shrink fibroids enough to make a myomectomy feasible and thereby preserve fertility.
Uterus Fibroids Surgery Cancer
The many uterus fibroid surgery side effects led to the development of new procedures that were billed as safer and faster. However, the FDA has sounded the alarm about the dangers of uterus fibroid surgery cancer posed by a new fibroid removal technique.
Laparoscopic power morcellation has the potential to unleash dormant cancer cells present in fibroids. According to an FDA study, about 1 in 350 women who undergo this fibroid surgery risk developing a leiomyosarcoma, which is a cancer of smooth muscle tissue that can spread throughout the body. Once spread, most leiomyosarcomas are inoperable and fatal.
It is clear that this type of fibroid surgery risks cancer. Some doctors and hospitals have already stopped using laparoscopic power morcellation, and patients who developed cancer as a uterus fibroid surgery side effect after undergoing this procedure are preparing lawsuits against the manufacturers of the devices used.
Side Effect Victims
Women who developed Uterine Cancer, Stomach Cancer or Leiomyosarcoma (LMS) after undergoing Fibroid Removal or a Hysterectomy may be eligible for compensation. Don't let your valuable legal rights expire – request a free case review by visiting:
Click here to receive your free case evaluation.

CitizensReport.org is a watchdog alerting American consumers about health and safety hazards.

Latest posts by CitizensReport (see all)